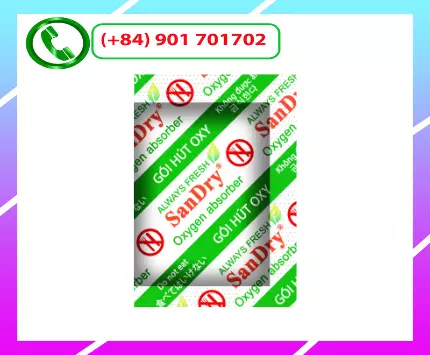 SanDry Organic Oxygen absorber
Informations
Organic oxygen absorber 

has some outstanding features as follows:
– Preserve and keep the freshness of perishable foods such as salmon, tuna, beef, ...
– Prevent food containers from shrinking when oxygen is absorbed. Organic oxygen absorber generates carbon dioxide of a nearly same amount of oxygen absorbed to prevent shrinkage of packaging material resulting from
oxygen absorption.
– For main ingredients, organic-based substances are used. Low detection sensitivity is achieved for a metal detector.
The organic oxygen absorber is able to pass through metal detectors because their main ingredients are organic-based substances. Besides, in the case of the freezing temperature of -18°C or lower, organic oxygen absorbers can be used.
Packaging Standard
| | | | | |
| --- | --- | --- | --- | --- |
| Standard | Packing in Bag (Unit/bag) | Packing in Carton (Unit/Carton) | Packing in tray | Rolls/Rope |
| 15cc | 500 | 20.000 | √ | √ |
| 20cc | 500 | 15.000 | √ | √ |
| 30cc | 350 | 10.500 | √ | √ |
| 50cc | 250 | 7.500 | √ | √ |
| 100cc | 180 | 5.400 | √ | √ |